St. Christopher Parish in Tonawanda will be holding their annual Summerfest carnival from Friday, August 2nd through Sunday, August 4th. The weekend long fair will have carnival rides for all ages, live music and entertainment, a wide assortment of delicious food, beer tent and wine tasting, carnival games & prizes, and a prize raffle with a $10,000 grand prize!
Friday will have the Attic Treasures Sneak Peek from 3‐5 pm ($3), along with a Fish Fry in the food tent. Breakaway will be playing from 7-11pm.
Saturday is Kid's Day from 1-5pm with various activities for the kids, along with the annual 5K Race and Family Fun Walk.  Music by Bone Shakers from 7-11pm.
Sunday is Military Appreciation Day. The festival will have wine tasting from 1:30pm – 3:30pm along with music by West of the Mark from 4pm – 7:30pm.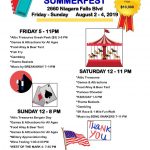 Please note that NY Carnivals does not operate, nor is affiliated with any event listed on this website.
Directions