🕖 This event has passed!
This event ended on October 13, 2019
The City of Long Beach is busy making preparations for its 23rd Annual Fall Festival. The two day outdoor festival will take place on Saturday, October 12 and Sunday, October 13 from 10:00 am to 5:00 pm in Kennedy Plaza located on Park Avenue between National Boulevard and Centre Street.
All are invited to attend this family friendly Long Beach tradition and to stroll through Kennedy Plaza taking in the sights, sounds and smells of autumn. The event offers something for everyone!
The weekend's centerpiece is the pumpkin patch filled with thousands of pumpkins waiting to be picked! A Pumpkin Bounce House, a Petting Zoo, a Carousel, a Hay Ride, Petting Zoo, and Fire Engine ride are just some of the fun-filled kids activities returning this year. The children's activity tent, sponsored by the Girl Scouts, will feature fall related craft projects. The Haunted House produced by Blood Manor will also return and is sure to scare all!
There is plenty for adults too… Craft vendors will line the plaza. Those over 21 are invited to visit the Food & Wine Tent for wine tastings presented by Beach Liquors. Modestly priced samplings from local restaurants will take place in the Food & Wine Tent. An array of food vendors will also be on hand offering international fare along the plaza.
Live music and children's entertainment will take place at National Boulevard on the bandwagon.
At Noon on Saturday, children in costumes will parade from the Recreation Center to Kennedy Plaza. Awards for best costumes and other categories will be given and each child in costume will receive special treats.
Admission to the festival is free to the public. The event will be held rain or shine. Each attraction costs $3. Non transferable pay one price (P.O.P.) wristbands providing access to all attractions are available as follows for $20.00.
Visit longbeachny.gov/fall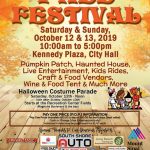 NY Carnivals does not operate, nor is affiliated with any event listed on this website. Hours, prices, and dates are subject to change without notice.
Hours
Saturday & Sunday
10am – 5pm
Event Sites & Contact
Vendor Info
This event is looking for:
Food Vendors
Retail/Craft Vendors
For vendor inquiries, contact [email protected]