The Chaffee Sardinia Volunteer Fire Company will be hosting their 2019 Carnival from Friday, June 28th, through Sunday, June 30th, located at Sardinia Veteran's Park.
The weekend long fire department fair will have a carnival with rides for all ages, live entertainment each night, a variety of great food including a Chicken Barbecue on Saturday and Sunday, carnival games & prizes, craft show, and much more!
Highlights during the 2019 carnival will be the Grand Parade on Friday at 7pm, WNY Tractor Pull on Saturday at noon, a Car Show on Sunday from 12-4:30pm, and a spectacular fireworks display on Sunday night at dusk.
Ride matinees will be from 6-10pm on Friday, and 1-5pm & 6-10pm on Saturday and Sunday.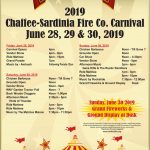 Please note that NY Carnivals does not operate, nor is affiliated with any event listed on this website.
» See more local deals
Directions