2nd Annual For Kids to be Kids Mini Parade and Fun Day 2017
Saturday, June 3rd 2017
PARADE
1pm
starting at St. Helenas Church
1315 Olmstead ave…parking lot on Westchester ave Bronx NY, marching up Westchester ave North ending at Westchester Square OWEN DOLAN PARK.
FUN DAY (same day)
2pm – 6pm
@OWEN DOLAN PARK
2551 Westchester Square
Bronx, NY
It will be a day of fun, games, contest, prizes, entertainment!
We would like for your family or kid friendly organization to be a part of this fun day for youth and Families. If you would like to participate, please let us know what you would like to do. Marching in the parade or hosting an informational table are some fun ideas. Contact information is listed below.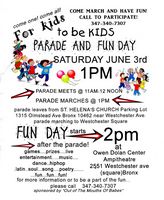 Hours
Saturday, June 3rd: 1pm - 6pm
Admission
Free
Event Sites & Contact
Please note that NY Carnivals does not operate, nor is affiliated with any event listed on this website.
Directions